Serving the residents of Pittsburg, KA since 1969.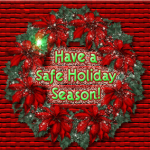 A Safe Holiday Season
The holiday season can be an exciting time of year. However, with trees and decorations, lights and candles, safety becomes important to make sure that the holidays are happy and tragedies are avoided.
Each year, more than 400 home fires involve Christmas trees, with 40 deaths and 100 injuries occurring as a result of those fires. Select a fresh tree, keep it in a sturdy, water-holding stand, and most importantly, keep the tree away from fireplaces, radiators and other heat sources. If you use an artificial tree, choose one that is labeled as fire-resistant.
Lights make the holidays festive, but use caution. Look only for lights with the UL label. Lights intended for indoor use should never be used outdoors. Check for broken lights or frayed wires, and never use more than three light sets on any one extension cord. Turn off all lights on trees and decorations when you go to bed or leave the house.
Fireplaces are meant for enjoying warmth – do not use them as a place to dispose of evergreens or wreaths. They can flare out of control, sending flames and smoke into the room. Wrapping paper should not be burned in the fireplace because it often contains metallic materials, which can be toxic.
A little bit of caution will go a long way to making this a safe and happy holiday season.
Tips for a Safe Season:
Never place lighted candles on a tree or near any flammable materials Keep all holiday plants out of reach of children – many look good enough to eat but may cause severe stomach problemsBe a smart host – limit alcohol consumption and use designated drivers Be careful when choosing toys for small children. Avoid items with small parts that could be a potential choking hazard. Use caution in the kitchen! Keep an eye on the stove and oven, and handle all foods carefully to avoid spoilage.
Working Together for a Safer Community
For us, the job we do is more than protecting homes and businesses from the threats of burglary and fire – it's about protecting lives. We truly believe that by working together we can build a safer community. We are pleased to share with you important safety tips on a variety of topics. We encourage you to review these tips with your family and share them with your friends and relatives, too.
If you have any questions, or want additional information on how to keep your home and family safe, please give us a call. Remember, we are your partner in safety.
Please contact Touchton Electric & Alarms at (620) 232-9294, or email us here.