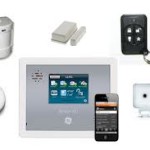 According to the National and Fire Alarm Association, over 2 million American homes are burglarized every year. Most of them have no home alarm system, so it is safe to say that these alarm systems can do a great job of protecting your home and your family. Home alarm systems can be complicated and expensive, so it is important to determine your security needs before you start consulting with alarm companies.
1.    Look into the possible locations for the control panel and keypads. You might find it convenient to put a keypad close to the front door. You might also want a keypad close to the bedrooms. The control panel commands the system, and the keypads allow you to program the system and turn it on and off.
2.    Determine how far away windows and doors are from the control panel. So you know how far the wires will be routed or how far a wireless system needs to communicate with sensors. Remember that it is difficult to install a hard-wired security system unless your home is still under construction.
3.    Decide if you want a monitored security system that will be monitored 24 hours a day. The central monitoring station watches your home for a monthly fee. A less expensive alternative is a basic sensor system with a dialer accessory that connects the system to your phone lines and dials preselected numbers if the house's security has been breached.
4.    Consider your lifestyle. Does someone in the family usually get up in the middle of the night for a snack? Do you have a large pet that roams your home at night? These circumstances will influence the type of motion sensor you select and how it is installed. It may also call for you or the members of the family to take trips to the keypad to prevent false alarms.
5.    Pick a system with a control panel that is able to monitor all the zones you have in your house. Every window or door integrated into the system is considered a zone. A basic system is capable of controlling 8 zones. However, there are panels that permit the addition of expansion modules so the system can watch up 32 zones.
6.    Make certain that the home alarm system you pick is able to accept different sensors. Like fire protection sensors, combustible gas detectors, carbon monoxide sensors, water detectors, and anti-free up low temperature switches (particularly if you live in cold climates). Also, ensure that panic buttons are or can be included.
7.    Choose a home alarm system that is user-friendly. Ensure that inputting the codes onto the keypad is not a complicated process and is one that everyone in the family can quickly learn. You would not want to have to refer to the owner's manual every time you input or try to interpret codes.
Most importantly, make sure that you buy a home alarm system made by a reputable manufacturer. Learn to pay a little extra with the assurance that it will perform better. Contact the best home security Joplin provider in your area now.